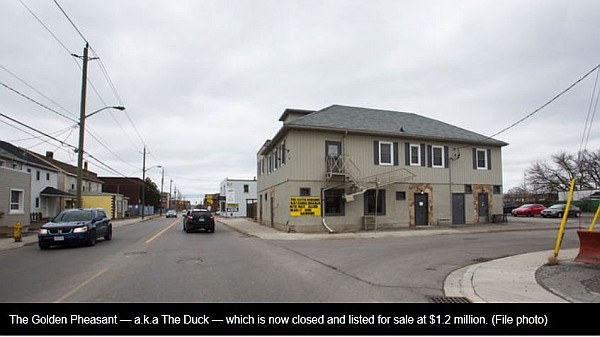 By Doug Herod - St. Catharines Standard - Friday, July 15, 2016 3:10:43 EDT
In early June, the Golden Pheasant Tavern, a longtime St. Catharines institution affectionately known as The Duck, closed its doors for good.
A few days later, Jim Bradley, a longtime St. Catharines politician, announced he was resigning as an Ontario cabinet minister.
A mere coincidence?
Hmm …
Bradley's image in Toronto circles as an everyman was enhanced by his penchant for telling various government muckety-mucks that he took his political cues from patrons at The Duck, which he characterized as a blue-collar, neighbourhood pub in a working-class section of St. Catharines.
The latest reinforcement of this image came courtesy of former provincial cabinet minister Michael Bryant. He described in a Toronto Star column earlier this month the way Bradley often responded to cabinet colleagues who were extolling the virtues of some study or expert.
"I'm sitting here wondering what they'd be saying at The Duck about all this," Bradley would say, according to Bryant.
But now The Duck has closed, depriving the St. Catharines MPP of his community touchstone.
What choice did he have but to quit? I mean, think of the meaningless feedback he'd get chowing down with customers at an antiseptic, cookie-cutter, franchise restaurant in a north-end strip plaza. Egads, man, they're probably Conservatives.
Mind you, The Duck could rise again from the ashes. A couple of weeks ago, a for sale sign was affixed to the building. I contacted the agent, James Vanderburgh of Reio Realty Ltd. He said the listed sales price is $1.2 million.
That's right, $1.2 million. Maybe there's some wiggle room there.
I'm also thinking Bradley's purported use of The Duck as a political barometer is a bit dated.
It's been a couple of decades since the Golden Pheasant's heyday, a time when thousands of factory workers toiled nearby, scads of sports teams and leagues were sponsored and plenty of neighbourhood residents saw it as their preferred hospitality destination.
True, The Duck in recent years could still pull a large audience for its live blues entertainment. But I was part of a group of aging basketball players who showed up there every Thursday night for the past several years, and, well, it wasn't exactly rockin' and rollin.' This past winter we were happy if the bar featured more than one type of draught beer.
Judging by the other barflies in attendance on Thursdays, it's probably just as well Bradley wasn't relying on their political advice since it likely focused on the legalization all-day Happy Hours.
But enough gentle dissing of The Duck. It had a helluva run. Indeed, as far as I can tell, it was the second-longest, continuously operating tavern in St. Catharines, surpassed only by the Mansion House.
It opened on Ontario St. shortly after the Second World War. The Golden Pheasant really started to flourish, though, when Gino Castellan bought the place in 1952.
Son-in-law Ray Kelly became manager in the mid-1960s and then Kelly and his wife, Donna, along with her sister Lydia and husband Tilmon Arsenault bought the tavern from Castellan in 1977.
I wrote a column in 2002 when the family celebrated its 50th year of ownership. At the time, Kelly said that while workers from General Motors and W.S. Tyler had been "very good for business" over the years, the Golden Pheasant was a neighbourhood bar more than anything else.
Plus, it was a sports bar before that label became fashionable.
"We have always been very, very supportive of adult sports and minor sports in St. Catharines. We've done tons of sponsorships and players have always been very good at supporting us back," said Kelly.
But success is never guaranteed. Despite 50 years in business, Kelly said there was a need to constantly evolve if one wanted to survive.
The business was eventually sold, and, for whatever reasons, survival strategies stopped working.
I reached current owner Jack Kizera, but he abruptly ended the conversation by saying: "I'm not talking to anybody."
There you go. The voice of The Duck silenced.
No wonder Bradley had to go.